Went to Oregon to shoot some family portraits. Had so much fun thanks everyone for having me come up! Cant wait until next time!
Labels: child portrait, Family Portraits, jacquie van tichelt
posted by Jacquie Van Tichelt @ 11:14 PM, , links to this post


When out on 2 shoots today little Will and Ana. Here are a couple I liked
Labels: boy, jacquie van tichelt, maternity, maternity portraits
posted by Jacquie Van Tichelt @ 10:07 PM, , links to this post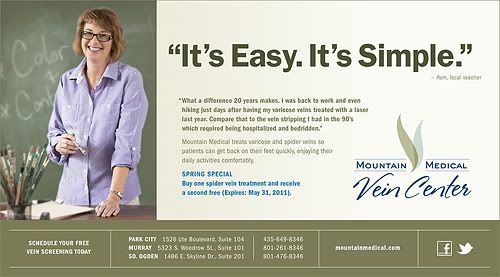 How does one advertise for the treatment of Varicose veins. It takes a team! Scott Eggers was the art director/ graphic designer. He is extremely talented and experienced in advertising. Penny Goodwin was also incredibly awesome with wardrobe / makeup.
Locally in Utah there is Medical Spa that helps assist in treatment of Varicose veins; Mountain Medical Vein Center http://www.mtnmedical.com/vein_center.html
Mountain Medical Physician Specialists is the largest radiology and vascular surgery practice in Utah, serving more than 15 locations, including local hospitals and private clinics. We offer multiple areas of subspecialty expertise through cutting-edge diagnostic imaging, interventional radiology, vascular care and surgery.
The people in these ads are real folks who are affected by varicose veins. It was an interesting experiencing learning more about the process and the demographic that needs help. Both of the woman spend time on their feet all day. Which seems to be one of the triggers.
Some facts I learned:
Women develop varicose veins nearly four times as often as men. In fact, about 70% of adult women get varicose veins at some time in their lives. Some women are at greater risk due to heredity. Others are likely to get spider veins because of lifestyle.
Women who are pregnant or use oral contraceptives are at risk for varicose veins. So are women who experience an increase in estrogen, which is believed to weaken vein walls. Overweight women often get spider veins because they're more likely to develop circulatory problems, diabetes or heart disease. All of these conditions hinder bloodflow to the heart.
Standing for long periods of time also increases the risk of getting spider veins. That's because it's harder for veins to fight gravity and return blood to the heart. Those who wear high-heeled shoes can stress leg veins by forcing their calf muscles to contract more than usual.
Risk factors for varicose veins include:
• Heredity
• Occupations that involve a lot of standing
• Obesity
• Hormonal influences during pregnancy
• Use of oral contraceptives
• Post-menopausal hormone replacement
• Prolonged sitting with legs crossed
• History of blood clots
• Medical conditions such as tumors and constipation that may increase intra-abdominal pressure
• Externally worn garments such as girdles that may increase intra-abdominal pressure
Advertising Photography Salt Lake City Utah Cass Studios Natalie Cass www.CassStudios.com
posted by Cass Studios @ 10:06 AM, , links to this post


Labels: Baby Portraits, Children Portraits, jacquie van tichelt
posted by Jacquie Van Tichelt @ 11:39 PM, , links to this post